We have renamed our annual golf scramble to the Pat O'Keefe Memorial Golf Scramble.  Pat O'Keefe was an Air Force veteran but we liked him anyway. 😀 Just joking!  Pat was one of our hardest working associate members.  He was faithful to the Marine Corps League, the VFW, and the Honor Flight of Southern Indiana.  Anything he could do to help veterans, he did without a second thought.  He started the golf scramble, did most of the work, and raised more money each year than any of our other fundraisers.  This allowed us to provide more support to veterans and the community.  When he passed away, the decision to rename the scramble after him was unanimous.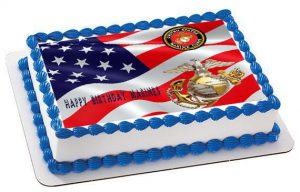 Preparations are well under way for the celebration of the 248th Marine Corps Birthday!  For more information and to purchase tickets, check out this page.  
⊕ If you are a member and don't receive occasional emails from us, please click on the Contact Us link on the right and send me your email address.  That is our main channel of communication.
⊕ If you're not a member, come join us!  We meet on the third Thursday of every month at the Jasper American Legion.  Pizza at 6:00 PM, meeting at 7:00 PM.
⊕ To find out what else we're doing, take a look at our calendar.  And don't forget to like our Facebook page!
Disclaimer:
"The Eagle, Globe and Anchor emblem and the name Marine Corps® are registered trademarks of the USMC.  The Marine Corps League and its subordinate organizations support the USMC and its veterans, however it is not officially connected to or endorsed by the USMC, and the name and emblem are used with permission."